At the time I first designed this bag, I had little one's, was a tupperware dealer, and needed a bag that would fulfill all my needs, from diaper bag to briefcase.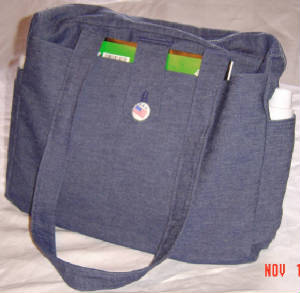 Now check out the inside after I unzipped the zipper!! Large enough for 3 large skeins of Red Heart Yarn with room to spare!! 3 more pockets line the inside!! I put a standard pattern size envelope in each pocket so you can see how large they are.
When I use this as a purse, I keep my wallet and checkbook in the closest pocket. I keep notepad and pen in one of the other pockets, and my camera in the one next to it. These pockets are large enough for your emergency makeup kit so it doesn't get lost in the bottom!!!
The long handles are the perfect length to sling over your shoulder and ride on your hip, keeping your hands free for more important things!!
I make this bag to order, so I can customize it with your initials if desired. If you prefer a different color, let me know. I have access to many different colors of denim as well as canvas and duck cloth.