Welcome!!!
Below you'll find a few of the wonderfully talented handcrafters iOffer has to offer!!!
Please enjoy your visit and have fun with the great deals in iOffer stores.
Each crafters booth has a link to the store under the picture. A new brouser window will open, so it'll be easy to come back here to find the next great crafter to visit!!! Many of our crafters offer a variety of other items also. To find the handmade/homemade items only easily, just type handmade or homemade in the searchbox on each stores page!!!
Make an offer on a single item or save even more by bundling several purchases together at any one of the stores.
Many of our crafters offer custom orders!!!
Make an offer! It's not an auction, it's better than an auction!

Visit often to check out the latest deals and merchandise for the holiday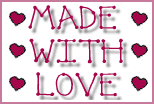 I've been sewing over 30 years and love to create new and unique things. I make wall hangings, throw pillow covers, aprons and chefs hats and nursery items to name a few. I love custom orders, if you can think it, I can probably make it!!!

 

All our products are handmade in my sewing studio or lovingly handcrafted by a crafter of similar good taste and high standards

Handmade Heaven-your choice for custom made vests, scrub tops, linens, children's clothes, red hat and more. Handmade means quality!

 

Made by hand, my incense is created as it is ordered, ensuring it is the freshest available anywhere. I use only quality ingredients, and offer the widest variety of fragrances.

All of my incense is made by hand at time of order, because I want to present you with the freshest incense possible.

Some of the items I offer are incense, fragrance and perfume oils, light bulb rings, handmade incense burners and incense holders, handmade fimo glow cups for votive candles.

 

Custom crochet gifts for unique individuals!

Take a few minutes to see items that you can't find anywhere else. Everything is handmade by me, and would love a nice home.

Custom orders are always welcome!

 

H N A Handmade Creations!!

Here you will find many handcrafted soap items, including guest soaps, gift baskets and soap bouquets

Our fragrance collection is growing weekly
If possible we will combine them on request

We will also do custom gift baskets

 

I enjoy creating jewelry using Turquoise, Coral, Amber, Malachite and other gemstones. I market my hand crafted jewelry as "The Sara Jane Collection"!

In addition to creating jewelry, I make wall hangings incorporating leather, fur, antlers, feathers, etc. I also make items from crystals such as crystal wands and jewelry.

 

I create custom designed clothing for infants, children, home decor and the beloved family dog and cat items. I have been custom designing and sewing for 37+ years so you will be assured of a quality product. My feedback is 100% positive! As I have a lot of experience, including designing for the handicapped, I am easy to work with and my items will fit...!

 

Items found here are made at home. Some use patterns, some are original designs, some are special requests. We provide doll clothes, doll jewelry, custom embroidered baby blankets, costumes, etc.

 

We specialize in childrens bedding from nursery's
to toddlers. Our sets include dust ruffles,
bumpers, valances and many additional accessories. We
also offer a line of boutique childrens clothing
custom made to your sizing requirements. We have
been sewing for 30 some odd years and quality is
of the upmost importance to us.


 

"A store of unique handmade home decor and baby accessories from my heart to your home. For you or for someone you love. Collectibles too!"

 

Hello all bead and jewelry lovers! Welcome to my world. I make lampwork beads, and create jewelry that will last for many generations to come. Glass is the medium. I love creating one of a kind pieces that will become an heirloom in your family.

 

Janneys Cybershay Shopping

I have been crocheting for over 35 years , it is my relaxation, hobby and medicine. My trademark is crocheted Roses afghans (Get your Free crochet pattern). I make up my own patterns as I go along in any color that is wanted.

 

I design and create beautiful beaded jewelry. All my work is unique!! Rings, bracelets, ankle bracelets, necklaces, ankle bracelets, rings, hair pieces.

Sarah Eve Nichols

 

I love to create beautiful wreaths as well as other unique/one of a kind crafts that are handmade.

I also update brand new shades to go with today's trends, Victorian style as well as unique tapestries and velvets. Much of my work is custom.

My work has been described as "Simple, yet Elegant".

 
This is the end of this page, and guess what!!! There's more on the next page!!! Just go back to the top and click on iOffer Craft Fair Page 2!!!!