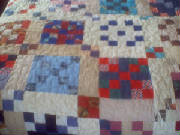 This is my Healing Quilt I made for myself. Can you tell I love contrast?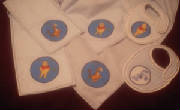 Winnie The Pooh Infant Blanket Set. I also made a set of the Blue's Clues too!!!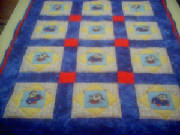 My youngest son just loves the Tazmanian Devil, so that's what he chose for me to build blocks around for his son's quilt. I love to make baby quilts. If you have a special nusery theme in mind, I can use your theme and make a beautiful colorful baby quilt for you!!
These two pictures on the left are of the curtains I made. I fell in love with the floral, bought all the store had, and still didn't have enough!! So, the thinking cap went on, and the search started! I couldn't find any more of the floral fabric, and of course the store couldn't reorder, so I found the pretty complimenting blue.
These curtains are in separate yet connecting rooms, so they had to coordinate well!